'Masked Intentions' collective exhibition is opening this Friday at Cass Contemporary in Tampa (Florida,USA) ! It is a pleasure to be part of it !
Dont miss it if you're in town !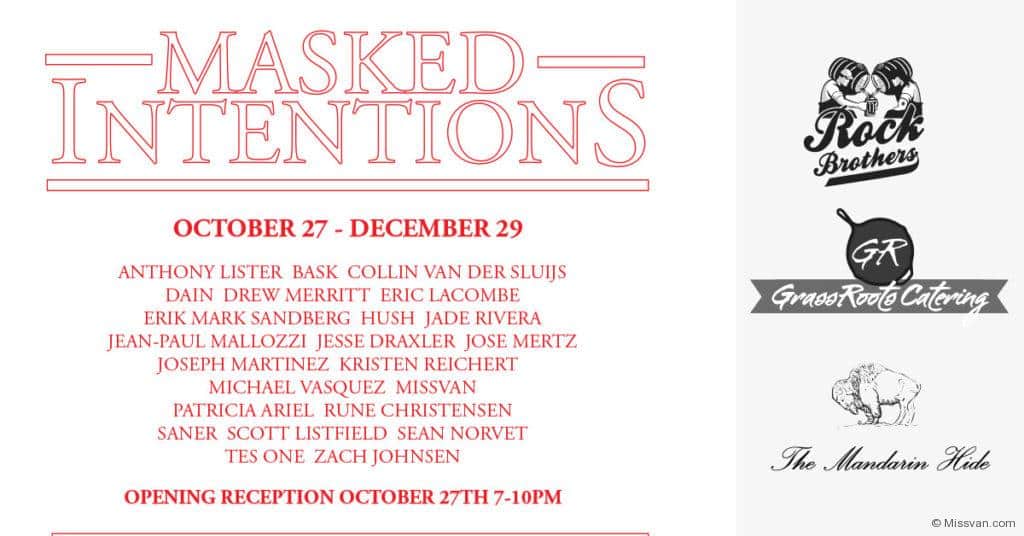 Masked Intentions, a new contemporary art exhibit, opens at CASS Contemporary on Friday, October 27th. This group exhibition features the work of highly specialized contemporary artists who are both leaders in their industry and experts in abstract figurative design. The name of the show is Masked Intentions, and much of the work can be thought of as having multiple interpretations or hidden meanings. 
ANTHONY LISTER BASK COLLIN VAN DER SLUIJS DAIN DREW MERRITT ERIC LACOMBE ERIK MARK SANDBERG HUSH JADE RIVERA JEAN-PAUL MALLOZZI JESSE DRAXLER JOSE MERTZ JOSEPH MARTINEZ KRISTEN REICHERT MICHAEL VASQUEZ MISS VAN PATRICIA ARIEL RUNE CHRISTENSEN SANER SCOTT LISTFIELD SEAN
---
Masked Intentions
October 27, 2017 – December 
31
, 2017
CASS Contemporary
2722 S MacDill Ave, Tampa 33629