Let's celebrate the 10th anniversary of the great Dorothy Circus Gallery, with a beautiful group exhibition ! 'Pages From Mind Travellers' Diaries' show will be on view from November 11th, you cant miss it if you're in Rome !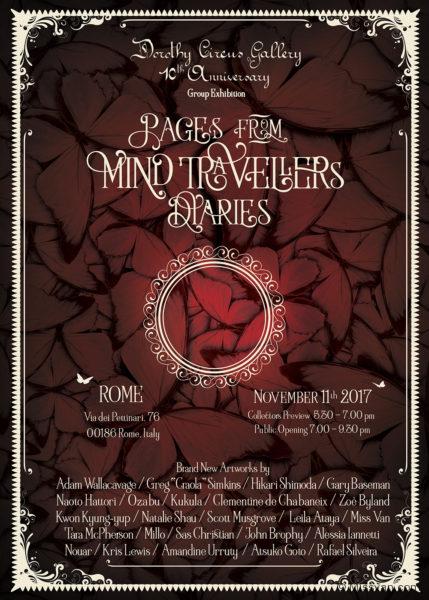 November 11th 2017 to January 30th 2018
– Opening Reception November 11th 2017 –

Featuring Artists:
Adam Wallacavage (USA), Alessia Iannetti (IT),Hikari Shimoda (JP), Gary Baseman (USA),Kukula, (IL), Kwon Kyungyup (KR),Millo (IT), Clementine de Chabaneix (FR),Leila Ataya (RU), Miss Van (FR), Naoto Hattori (JP),Natalie Shau (LT), Nouar (USA), Scott Musgrove (USA),Tara McPherson (USA), Zoe Byland (CH),Sas Christian (UK), John Brophy (CA),Kris Lewis (USA), Amandine Urruty (FR),Atsuko Goto (JP), Greg Craola (USA), Ozabu (JP)and Rafael Silveira (BR).
---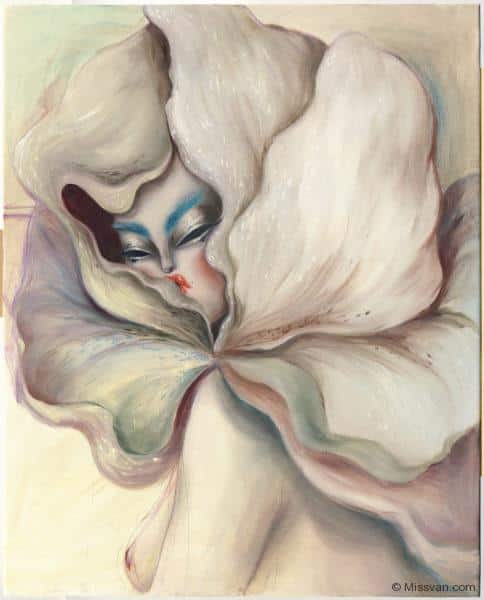 ---
"One's destination is never a place, but always a new way of seeing things." – Henry Miller

"Each one of us was assigned his own journey. We bring into it our family background, carrying in our hearts our family members and the special people we meet, who become deeply rooted in a personal circus we travel with constantly. Each of us has his unfollowed path to go through, his own doors to unlock in order to free his soul, to sail out into the infinite visions coming from his mind. The place we reach is not down any map, as true places never are. It might be the secret garden where the holy blue resides or the glorious land of a still time and memory. By experiencing, dreaming, and discovering we fill our suitcase with ghosts of love and emotions. While losing sight of the shore, we are finally wanderers and we discover ourselves." – Alexandra Mazzanti
The group show PAGES FROM MIND TRAVELLERS' DIARIES celebrates the 10th anniversary of Dorothy Circus Gallery and utterly reflects its intrinsic identity and ideology.
The journey towards the remotest spaces of Pop Surrealism is a journey full of surprises and significant meetings that shaped the identity of the Gallery since 2007. In ten years, Dorothy Circus Gallery brought to the Italian art scene more than 60 solo shows, group and museum's exhibitions. Today, Dorothy Circus continues its exploration, wandering as a circus, and opens its curtains once again to a new public, collecting essential moments for its travel diary.
The double group show PAGES FROM MIND TRAVELLERS' DIARIES (London and Rome), in the authentic spirit of the Journey, presents inedited artworks, executed on the theme of travel, and celebrates the gallery's goal and remarkable itinerary.
With the aim of spreading its mission around the world, while absorbing new cultural contexts, the Gallery has started its journey across Europe, landing on a new capital, London, with the group exhibition opening on the 12th of October. In order to honour the close relationship with the Italian venue, the Gallery dedicates a wider exhibition exclusively to its Roman public.
The show will present the second chapter of the exhibition PAGES FROM MIND TRAVELLERS' DIARIES, with 24 international artists among the most talented and original in the contemporary figurative art scene. The exhibition features already well-known artists, including Miss Van, Gary Baseman, Sas Christian, Kris Lewis, together with new emerging artists, such as Millo, Greg Craola Simkins, Amandine Urruty. Japan's artistic scene influenced and transformed the contemporary art's industry, through its fascinating artistic and cultural tradition, its refined and meticulous research of an innovative style, always projected towards a high-skilful technique and virtuosity, and its profound analysis of social matters.
The Roman event will present the homonymous exhibition catalogue "Pages from mind travellers' Diaries", containing works from all the artists on show in London and Rome. Among the most recent intriguing discoveries, the Brazilian artist Rafael Silveira, the Iranian Afarin Sajedi, the Korean Kwon Kyungyup and other travellers of the Gallery's visionary mind.