It is an immense pleasure to announce the upcoming duo show 'Convulsive Beauty | Then & Now' – Leonor Fina & Miss Van. The exhibition will be on view from February 17 – March 24, 2018 at Weinstein Gallery in San Francisco, CA (USA).
The show will unveil my latest paintings and drawings together with works of the amazing surrealist painter Leonor Fini (1907-1996).
The opening will take place this Saturday, 17th of February from 6:00 PM and I am looking forward to meet you all there !
Save the date… You are all welcome !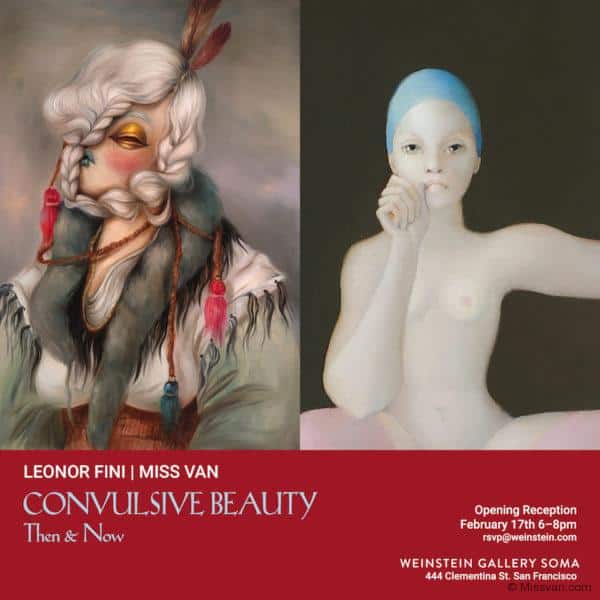 ---
LEONOR FINI | MISS VAN
February 17th – March 24th 2018
Opening reception : February 17th 6-8pm
– RSVP –
"Convulsive beauty will be veiled-erotic, fixed-explosive, magic-circumstantial or not at all."

—André Breton
---
Weinstein Gallery is pleased to present Leonor Fini | Miss Van – Convulsive Beauty: Then & Now, a surrealistic dialogue composed from the paintings of two artists born seventy years apart. 
Leonor Fini | Miss Van – Convulsive Beauty: Then & Now interweaves two artistic provocateurs for a uniquely feminine representation of the surrealist concept of convulsive beauty in both the historic avant-garde and contemporary urban art. The exhibition, like convulsive beauty itself, attempts to challenge the constraints of social norms and mores by freely expressing the subconscious world of dreams, desire and true emotions. 
ABOUT LEONOR FINI
The iconoclastic Leonor Fini was arguably the most ferociously and heroically independent woman artist of the 20th century. Fini herself never accepted the label of "woman artist," and likewise, never considered herself a Surrealist. She never sacrificed her independence to André Breton, the leader of the movement, and abhorred his misogynist views. Nonetheless, her works have been included in nearly every major Surrealism exhibition from 1936 to present. Fini was born in Argentina in 1907. Her mother spirited her away to her Italian homeland of Trieste. For the first seven years of her life, Fini was disguised as a boy whenever she left home to foil the kidnap attempts of her father. Raised by intelligent women and artistic personalities, it was not long before she decided to become an artist. By the time she relocated to Paris in 1931, she was already an intimate of Giorgio de Chirico and his circle. In Paris she was quickly 'adopted' by Max Ernst and the Surrealists that surrounded him. Fini became a sensation not only as an artist but also as a personality. She lived life like an actor in a play, creating a persona of drama, mystery and intrigue. The list of people she knew, collaborated with, or who were influenced by her over the following decades is itself a remarkable inventory of the thinkers and artists of the 20th century: Jean Cocteau, Man Ray, Leonora Carrington, Salvador Dalí, Joseph Cornell, Dora Maar, Anna Magnani, Albert Camus, Jean Genet, Federico Fellini, John Huston, and Georges Bataille, to name only a few. Fini came to incorporate many different lines of inquiry into her art. These were questions of beauty and age; of dark figures in conference that emerge out of murky waters and mottled landscapes; of an inexplicable silence that persists among those who attempt communication; and of the true nature of love and sex. Very few artists could be as simultaneously frank and enigmatic over a seven-decade career. 
ABOUT MISS VAN:
Miss Van (Vanessa Alice Bensimon) was born in Toulouse, France in 1973 and began painting in the streets at the age of 20. Credited with bringing women street artists to the forefront of a mostly male-dominated arena, today Miss Van is internationally recognized for both her urban art as well as her recent museum and gallery exhibitions. Her work is marked by her signature characters, the dolls or poupées, in an ongoing exploration of eroticism, emotion, desire, innocence, beauty and feminine power. Miss Van has shown in London, Rome, Shanghai, Paris, Vienna, Los Angeles, Detroit, Chicago, San Francisco, and New York, to name a few. Most recently her work was included in the opening exhibition of the new street art museum Urban Nation in Berlin, and she was honored with a one-woman show entitled The Wind in My Hair at the Centro de Arte Contemporaneo of Malaga, Spain.
ABOUT WEINSTEIN GALLERY:
Weinstein Gallery was established in 1992 and specializes in non-objective and Surrealist art from pre-war Europe through the New York School and Abstract Expressionism. The gallery represents the estates of Enrico Donati, Gerome Kamrowski, and David Hare, as well as Rudolf Bauer and Hassel Smith. Additionally, the gallery is recognized for its collection and commitment to the women of the Surrealist movement with an extensive collection of Leonor Fini and signature works by Leonora Carrington, Kay Sage, Stella Snead, Juanita Guccione, and Dorothea Tanning. The Surrealism collection includes major works by Yves Tanguy, Max Ernst, Roberto Matta, Oscar Domínguez, Gordon Onslow Ford, Wolfgang Paalen, and Kurt Seligmann. www.weinstein.com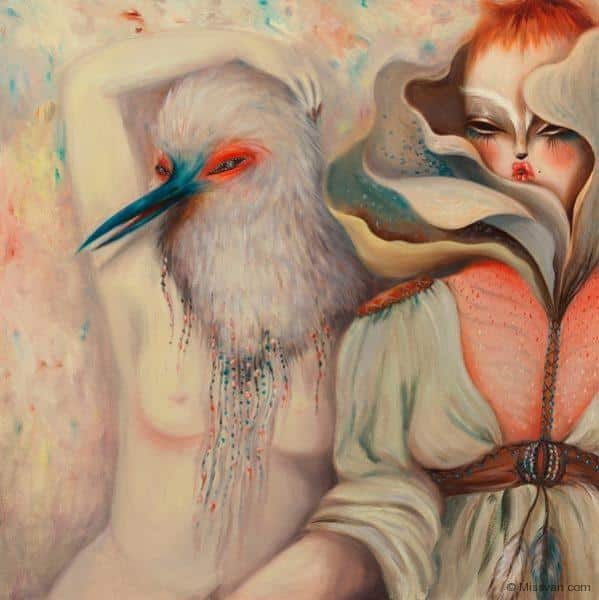 Miss Van—Two Muses 2017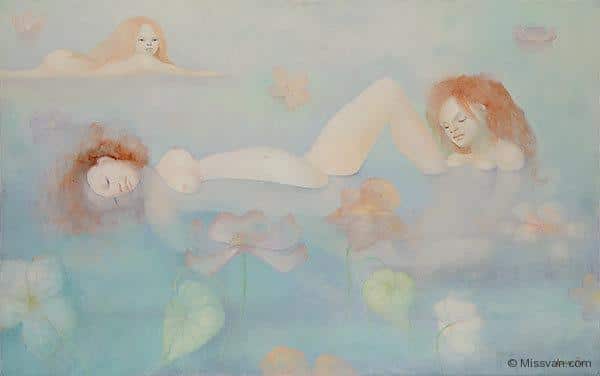 Leonor Fini—Les Baigneuses 1972
---
Weinstein Gallery
444 Clementina Street
San Francisco, CA